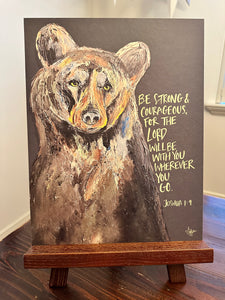 I've been thinking about this crucial time in our world (and in our culture), and I keep coming back to this verse in Joshua, "Have I not commanded you? Be strong and courageous. Do not be afraid; do not be discouraged, for the Lord your God will be with you wherever you go." (Joshua 1:9) He calls us to BE STRONG AND COURAGEOUS. The truth is we can't muster up enough strength or enough courage we'll need to survive this world. We just can't do it on our own, BUT we can walk into situations boldly and confidently not because we're so amazing and strong... but because of the ONE who is WITH US! As a believer His strength empowers us to walk in courage and strength no matter the fight that lies before us. We can roar confidently because of the One who is inside of us!
Original artwork by Heather Gilion at Story Designs. Image copyright of Story Designs/Dancing On My Ashes. This reproduction of Story Designs' original artwork is available as an 8x10 and 11x14, printed on fine art paper.
•• FREE SHIPPING •• 
*Shipped flat to protect print.
*Each print ordered comes in individual, plastic sleeve for protection.
*Artwork signed