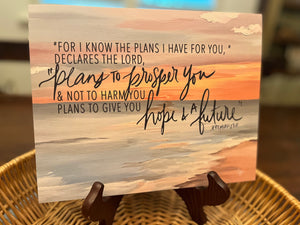 Any beach lovers out there? This print comes from a custom piece that was created as a gift from one teacher to another who is getting ready to embark on a new season. I was told she had taped this verse to her mirror and read it every day during her divorce. And just as He promised, God had plans for her! She got married this summer and her teaching friend wanted her to have this physical reminder in her home that God redeems what is broken❤️
Jeremiah 29:11 has to be one of those verses that brings such peace in times like these. When we don't know what tomorrow will bring we can be at ease when we remember HE KNOWS. And He not only knows but He has plans and you are a part of those plans. Friend, sometimes we can find ourselves watching the sun set on life as we knew it. And it's understandable to let your heart grieve the ending to a season…good or hard. But after you cry it out, and reminisce and reflect on the ways God has carried you through it all, remember… the sun sets but the sun will rise again tomorrow! So set your eyes beyond the sun and set your gaze upon the Son… And remember His many mercies that are new every morning. And rise up, dust yourself off and start moving! He will direct your steps and you can trust His plans are full of hope and a beautiful future when we walk in step with Him.
Original artwork by Heather Gilion at Story Designs. This reproduction of Story Designs' original artwork is available as an 8x10 and 11x14, printed on fine art paper.
•• FREE SHIPPING •• 
*Shipped flat to protect print.
*Each print ordered comes in individual, plastic sleeve for protection.
*Artwork signed