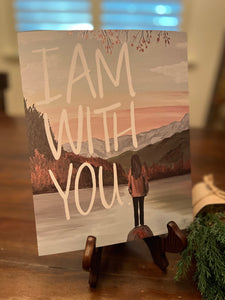 I painted this piece in April (2022). It had been on my heart and mind for some time and I couldn't hold it in any longer— I HAD to paint it. Too many precious people in my life were going through hard times. Some battling illness. Some depression. Some weary from fighting the good fight. Some anxious and feel so alone. Whatever YOU are up against God wants you to hear His voice, "I AM WITH YOU." You may feel unseen or forgotten or unable to put one foot in front of the other…. But here's the truth: you are seen and loved and able BECAUSE the Great I Am is right there with you.

I hope this encourages someone out there today. I had so many requests to make it into a print... so here you go! Maybe it's just what you need in your home or someone you love.

Original artwork by Heather Gilion at Story Designs. This reproduction of Story Designs' original artwork is available as an 8x10 and 11x14, printed on fine art paper.
•• FREE SHIPPING •• 
*Shipped flat to protect print.
*Each print ordered comes in individual, plastic sleeve for protection.
*Artwork signed