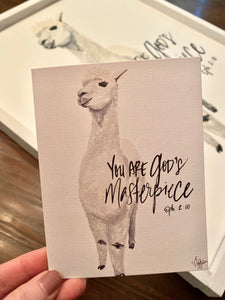 "You are God's Masterpiece" Ephesians 3:20

Not too long ago my hubby, knowing I was overwhelmed that day, put me in the car and we took a drive. He pulled over in the middle of nowhere! I was like, "What's going on?!?!" He said, "I thought you might need some llama in your day." Sure enough we just sat and smiled as we watched them trot around with their goofy grins. Their gallop makes me giggle. You can't help but be in awe of God's creativeness when you take them in. They are unique and fun… they are one of God's masterpieces… and so are YOU! Thought we could use the reminder today. And I had to make one of my paintings into this special card!
"Care Cards" are named after my good friend Carrie who has always encouraged me with a sweet note at just the right time. I hope my artwork paired with your words are a blessing to others as you love all those around you. The dimensions are 4.25x5.5 and they are blank inside. Includes envelope.

5 Cards @ $21
You can choose between TWO packs:
"FIVE OF MY FAVORITE" PACKS
OR
"SURPRISE ME" PACKS (which includes at least one of this card.)