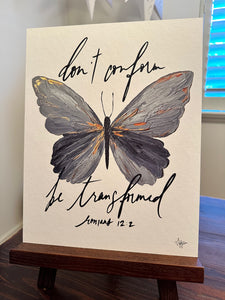 Romans 12:2 says, "Do not conform to the pattern of this world, but be transformed by the renewing of your mind. Then you will be able to test and approve what God's will is—His good, pleasing and perfect will."

This world wants you to conform-- "Fit the mold we say is right, true, and beautiful." "Speak loudly ONLY if you are saying what we believe." "You can stand but only for mainstream causes and agendas... don't offend." But God has another way. He says "Don't conform...be TRANSFORMED!" A metamorphosis from death to real life. A way that leads to becoming like Jesus. That's why in this design you see the butterfly changing from one color to another.
Friends, let's remind one another that we can still love and live out the truth. We can still love but stand on the Word of God. We can still love and follow Jesus' example.
It's time to emerge from our cocoons and spread our wings and fly as we've been created to do.
xoxo
Heather
Original artwork by Heather Gilion at Story Designs. Image copyright of Story Designs/Dancing On My Ashes. This reproduction of Story Designs' original artwork is available as an 8x10 and 11x14, printed on fine art paper.
•• FREE SHIPPING •• 
*Shipped flat to protect print.
*Each print ordered comes in individual, plastic sleeve for protection.
*Artwork signed